A Mother's Body is an intimate portrayal of two women hotel cleaners from a daughter's
perspective. While the women perform their daily work, the daughter reflects on how their
profession affects their bodies and relationship to time. Meanwhile, the women navigate and
negotiate the demands of the strenuous labour with experience, preciseness, and beauty.
2021 - Tempo dokumentärfilmsfestival (World Premiere, Honoury mention)
2021 - Hot Docs International Filmfestival 
2021 - IFEMA Filmfestival
2021 - Black Star Film Festival
2021 - Verin Short Film Festval
2021 - PING
2021 - Nordisk Panorama (Opening Film)
2021 - Nordic Labour Film Festival
2021 - CinemAfrica Filmfestival (Best Short)
2021 - Panora Film Festival
2022 - Arktisen Upeeta 
2022 - KinoPra Festival
2022 - Doc Lounge
2022 - Folkets bio
2022

- 
Värnamo Filmhistoriska Festival

2022

-
Shortlisted as  'Best short film' Swedish Academy Award (Guldbaggen)
2023 - Europanorama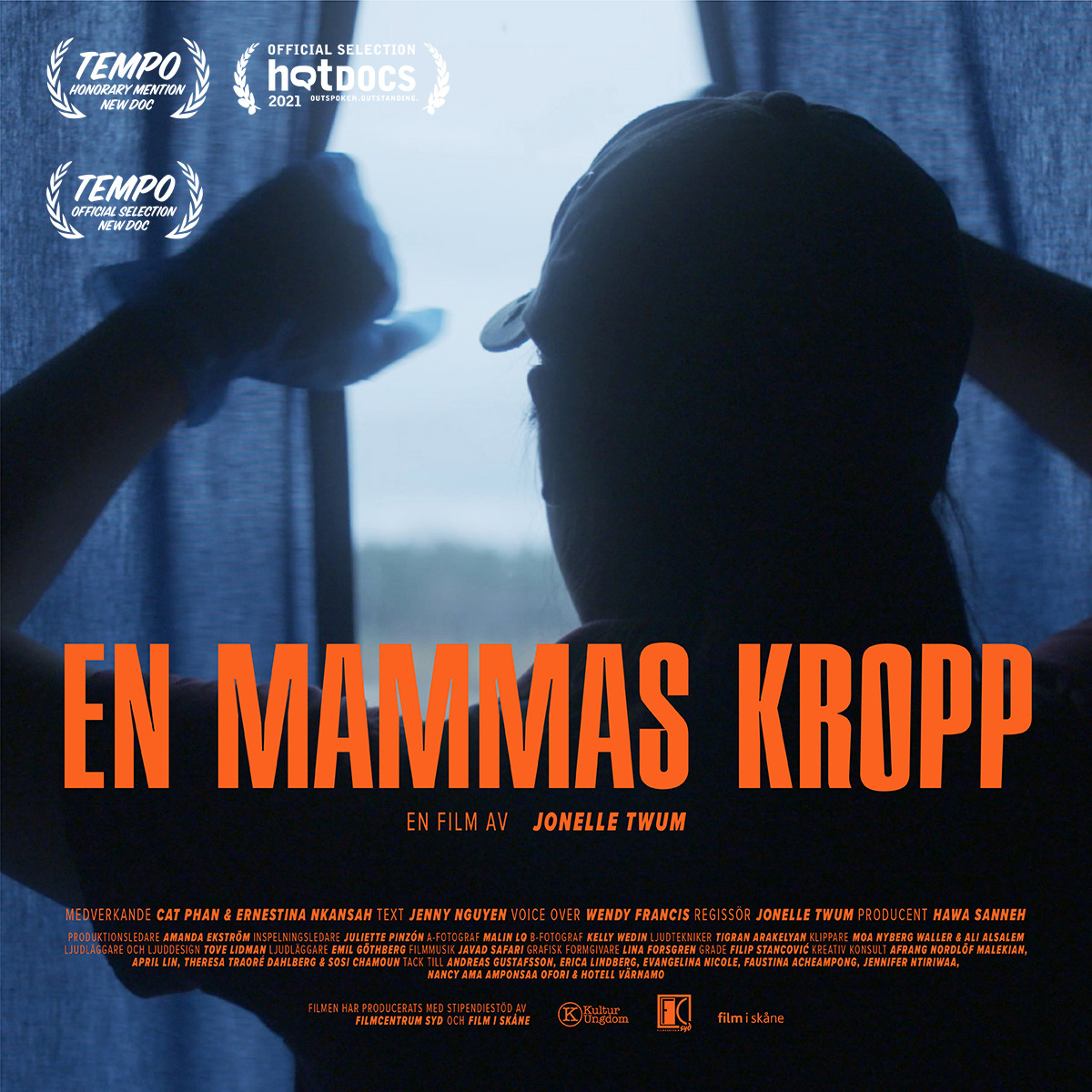 Director:

Jonelle Twum
PRODUCER: Hawa Sanneh
EXECUTIVE PRODUCER: Amanda Ekström


1st AD:

Juliette Pinzón
DoP: Malin LQ


Focus puller:

Kelly Wedin


Sound:

Tigran Arakelyan


Editor:

Moa Nyberg Waller, Ali Alsalem


Sound design:

Tove Lidman


Additional sound:

Emil Göthberg


Music composition:

Javad Safari 


Graphic art design

: Lina Forsgren


Colorist:

Filip Stankovic